As of Aug 26 2021, the 2021 The Other Reindeer Caroling roster is full. You can still submit if you would like to be contacted the next time I am recruiting.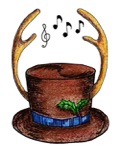 The Other Reindeer Carolers are seeking sopranos, altos, tenors and basses for costumed, a cappella caroling engagements in November and December. All gigs are paid.
Gigs are primarily in Los Angeles, Ventura, and Orange counties, but you may be offered gigs in more distant locations for increased pay.
There are a lot of caroling companies in Los Angeles. Why should you join this one?
The Other Reindeer Carolers offer:
Competitive professional pay (starts at $80 for 30 mins; see the Carolers FAQ for more details)
A great book with challenging arragements
Transparancy in the gig-offering process - you see all the gigs and tell me the ones you want!
Respect for carolers' needs and preferences
Get paid quickly and easily!
Excellent communication and organization
No expectation of exclusivity
Some of the best singers in Los Angeles to sing with!
I recently asked my carolers if they would be willing to write testimonials for this recruitment site, and within hours I had about half a dozen! Names are removed for privacy, but please see what current TOR carolers say about singing for the company:
"Terrific caroling company to sing with! Colleen is extremely well-organized and professional, great at communicating, very thoughtful of singers and clients, and quick to pay. The caroling itself is all the more rewarding because she sets exacting high standards for every aspect of the work. Can't be beat!" — M, alto
"Colleen is highly organized, sets clear and reasonable expectations, and communicates well. You can tell that what drives her to do this work is that she genuinely loves Christmas music. I enjoyed singing for The Other Reindeer during the 2015 holiday season and hope that my schedule permits me to do the same this year too." — A, tenor
"This coming Christmas season will be my 4th year with 'The Other Reindeer.' I consider myself a little bit of a 'mom' of the group - only because of my age - certainly not because of any superior musical ability. These people are really good! I had the opportunity to do a lot of studio work when I was younger and absolutely loved it. So singing with this group of men and women is so vocally satisfying and continues to challenge me in my sight reading big time! The charts are fun and fresh and I so enjoy getting out there in the community or at private parties and singing the songs of the season with such wonderful singers. Our fearless leader, Colleen, is a stellar arranger, impeccable director, and an administrator extraordinaire. TOR is a great caroling company!" — D, soprano 
More caroler testiomonials here
Find out more about Colleen Keene
Click here to view our Frequently Asked Questions page for potential carolers.
Click here to begin the submission process