The Other Reindeer Carolers
(805) 225-3252
The Other Reindeer is the business name of Keene Music Services, LLC.
We provide singers and choirs year-round for events of all kinds.
Costumed Christmas Carolers are available in the following locations:
• Los Angeles County
• Ventura County
• Santa Barbara County
• Orange County
• Please inquire for other locations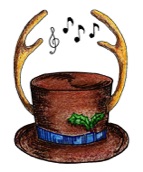 Q: Do you have a minimum time you will do?
A: Yes! We have a 30-minute minimum.
Q: How many songs do you sing?
A: Our entire repertoire is about 100 songs, but in a 30-minute set we will sing about a dozen songs. Carols tend to be shorter than pop songs, so we usually can sing 18-20 per hour.
Q: Do you take requests?
A: Of course! You can choose your own entire setlist, if you like. If you have any special or specific song requests, it will help us to know them in advance. Our complete songlist can be found here. If you want to hear a song that isn't on that list, please ask; if we don't have it in our library, you always have the option of paying for a custom arrangement (usually $100-200) so that we can sing it in 4-part harmony for you.
Q: Do you take breaks? How many?
A: We typically take 10 minutes of break time for every hour of the booking. So if you book us for two hours, we will take two 10-minute breaks. We generally space them as evenly as possible, but we can be flexible if you have a specific schedule you need to stick to! We do not take breaks in engagements that are 45 minutes or shorter.
Q: Am I expected to tip the carolers?
A: Tipping is appreciated, but it is not expected. Please let us know if you do not want us to accept tips from your event guests.
Q: What clothing options are there?
A: Our most popular clothing option is the classic Victorian carolers look. We also offer a "Suits & Cocktail Dresses" option for more of a vocal jazz look, or for formal events, tuxedos in lieu of suits is also possible. If you would like a more casual look, we can also wear festive Christmas sweaters (we don't call them Ugly Christmas Sweaters because we think they are cute!). You can visit our Gallery to see pictures of us, or visit our Instagram!
Q: How many of you are there?
A: We typically sing in groups of four, but the roster has about 70 professional singers on it, so if you would like a larger group to sing for you, let us know and we can give you a quote!
Q: Do you provide insurance?
A: Liability insurance is one of our optional offerings. For an additional fee of $25-50, we can provide a certificate of insurance naming your organization as an additional insured on our policy. General Liability limits: 2 million per occurrence, 4 million aggregate.
Q: Do you book carolers for Christmas Eve or Christmas Day?
Yes, but availability is limited, so please inquire early (2-3 months in advance, at least)
Q: What are you doing regarding Covid-19?
All of The Other Reindeer have been fully vaccinated against Covid-19, and we can provide proof of that upon request. In order to be able to perform for you safely, The Other Reindeer Carolers may need to institute some or all of the following for in-person engagements:
1 Engagements may need to be performed outside (excepting Virtual Engagements)
2 Carolers may need to wear masks while performing
Q: When do you have auditions?
Click here for information about joining The Other Reindeer!
Q: How much do you charge?
A: The biggest factors determining how much we charge are the length of the engagement and the location. If you know that if you know the date, the time, and the approximate location, click here to get a quote!
Frequently Asked Questions